We could all use a breath of fresh air these days, and what could be more rejuvenating than a picnic. Sharing a meal al fresco with family and friends is a great way to slow down, relax, and commune with nature. And food just seems to taste better when enjoyed outdoors! If you're celebrating a special occasion or planning a romantic soirée, consider booking a curated picnic. A professional picnic company will create a custom experience, including location, menu, decor, set up and pack down, so all you have to do is show up and enjoy. Or just grab a pretty picnic basket or insulated backpack, fill it with your favorite goodies, and head out to a local DTLA park. We've rounded up some great resources near Circa for you, and all the picnic people in your life.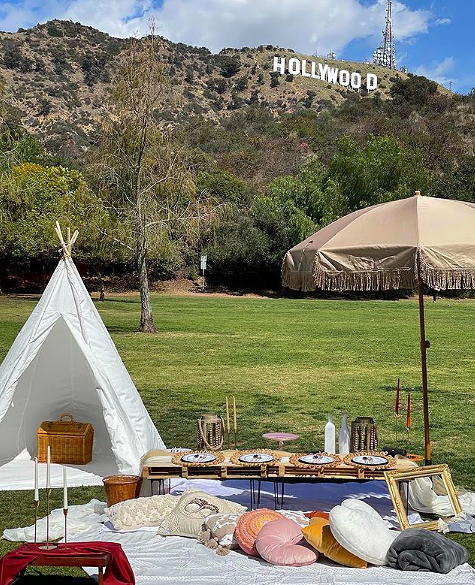 Hollywood Picnics is an event company specializing in tailored picnic experiences, Hollywood style. Born of an adventurous heart and a need to offer something different and authentic, they offer a dining experience by creating romantic, moody picnics that will make you feel like you are sitting on a rooftop in Europe or in Central Park. They tailor picnics for any event and have a catalog of locations with views and peace. Through their Hollywood style set ups, they aspire to immerse you in a tranquil and inspiring space where you get the chance to relax, connect, and enjoy the moment with your loved ones. Book your picnic HERE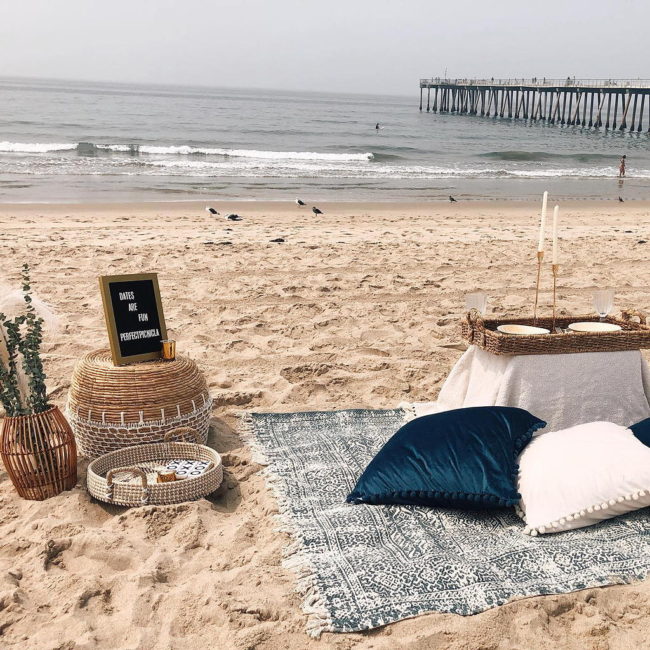 Picnic Party LA creates personally curated pop-up picnics for life's celebrations. Pick the package that best fits your experience and select from their add-ons to take your picnic to the next level. Choose your location, whether at home, by the beach or in the city, and they'll set up your experience and make sure it's ready upon arrival. They also check to see if permits are necessary in order to host an event at a particular location. All you do is show up and they do the rest so you can soak in the experience. Picnic Party staff return afterwards to pack and clean at the end of your picnic. Book your perfect picnic HERE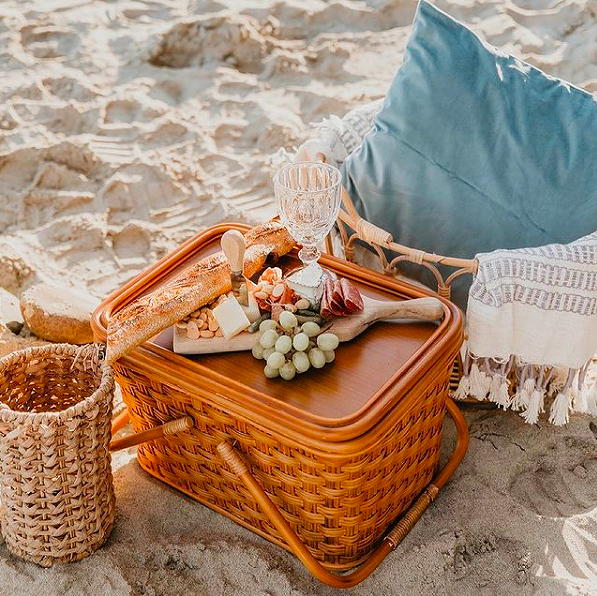 The Picnic Collective specializes in styled, customized picnics for a luxury outdoor social experience. They take care of the set-up and pack down, so all you have to do is arrive with your guests for a care-free, memorable experience. The Picnic Collective rekindles the magical tradition of beautiful handmade picnics as you savor the ceremony of delicious food from a traditional wicker basket, shared in great company in California's beautiful natural settings. From a romantic dinner for two and group gatherings to bespoke themes or unusual locations, their fine picnic dining experiences use locally-sourced seasonal ingredients that reconnect you to the pure joy of food. Book HERE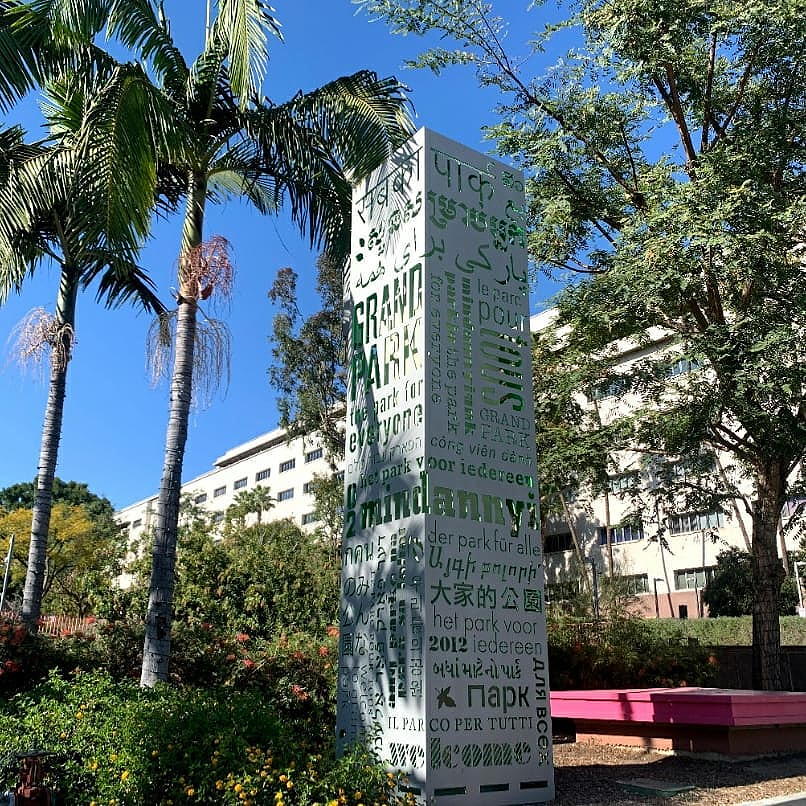 Grand Park 200 N Grand Ave. Los Angeles, CA 90012
Grand Park, with its majestic views extending from the Music Center to City Hall, provides Angelenos a place where they can come together to celebrate, reflect, and and play. Throughout Grand Park, open spaces are available for casual sitting, leisurely strolling, and dining al fresco. Grand Park has four distinct areas featuring amenities ranging from a restored historic Arthur J. Will Memorial Fountain with a new wade-able membrane pool, a small intimate performance lawn, a community terrace planted with drought-tolerant specimen plants, and a grand event lawn.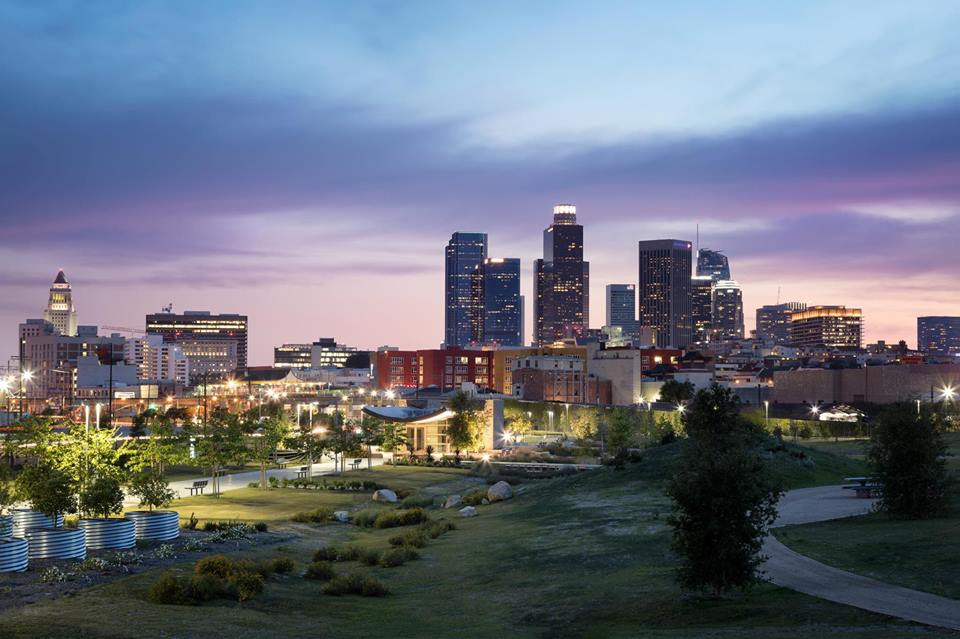 Los Angeles State Historic Park 1245 N Spring St. Los Angeles, CA 90012
Often referred to as the "Central Park of Los Angeles," the 34-acre green space is situated next to the Chinatown Metro Gold Line stop, at the midpoint of an evolving 52-mile Los Angeles River greenway. Formerly referred to as "the Cornfield" by locals, the park is now home to grassland, orange trees, public art, and a mile-long run/walk trail. Park visitors can wander pathways and enjoy a view of downtown, as well as discover and celebrate the natural and cultural heritage of Los Angeles. You can run, walk, ride a bike, have a picnic, fly a kite and even look for urban wildlife, such as birds traveling down the Pacific flyway.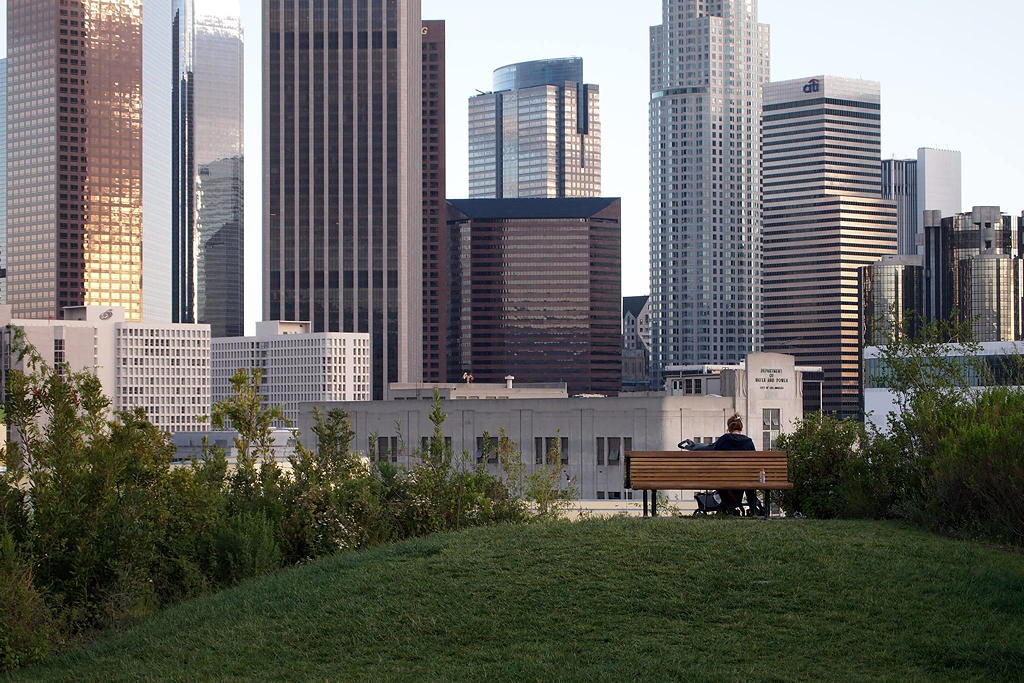 Vista Hermosa Natural Park 100 N Toluca Street Los Angeles, CA 90026
Located at the western gateway to Downtown Los Angeles, 10.5-acre Vista Hermosa Park is an urban natural park that boldly returns the serenity and diversity of nature to the Los Angeles urban core. Operated in collaboration with the Los Angeles Unified School District and the City of Los Angeles, the park features walking trails, streams, meadows, oak savannahs, picnic grounds, and a nature-themed playground amidst native Mediterranean vegetation.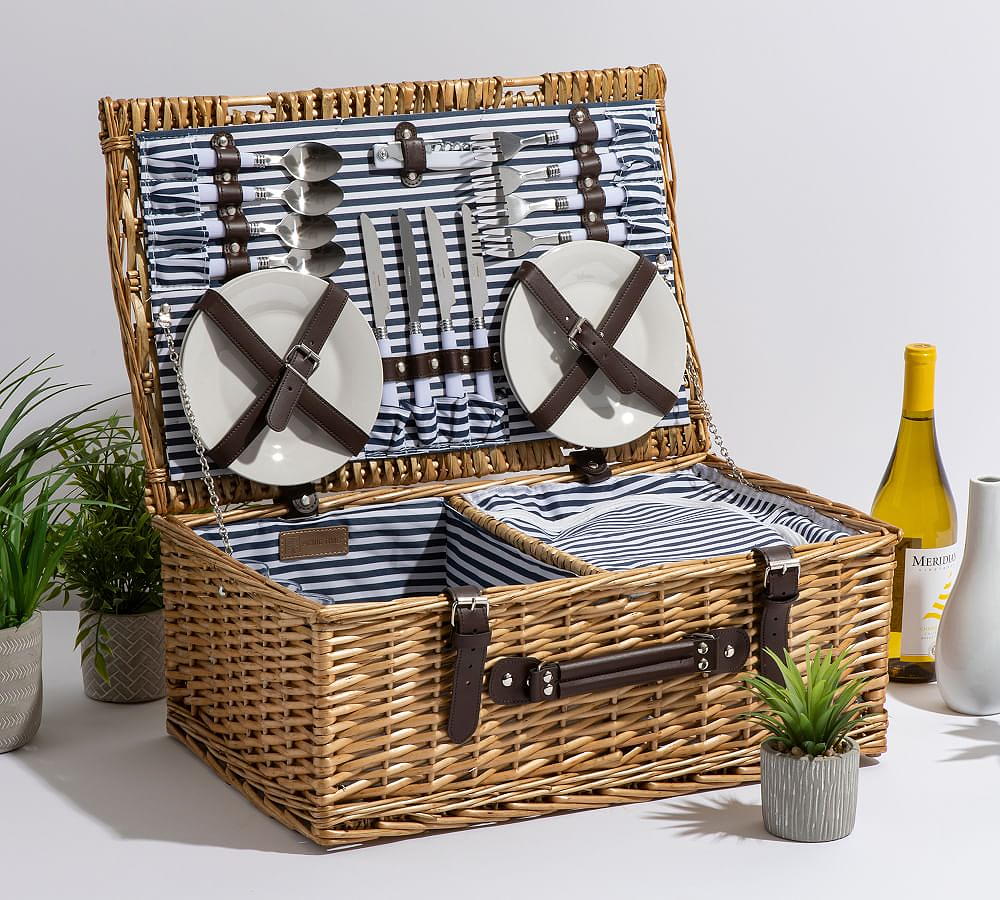 Providence Woven Picnic Basket
Life's a picnic! Embrace it with the Providence Woven Picnic Basket, which is finely woven with genuine willow and detailed with faux leather handles. The nautical navy-and-white striped interior makes it perfect for maritime and mainland adventures alike. Ideal for a day date or get together with friends, the basket is fully outfitted for two or four. Buy at Pottery Barn HERE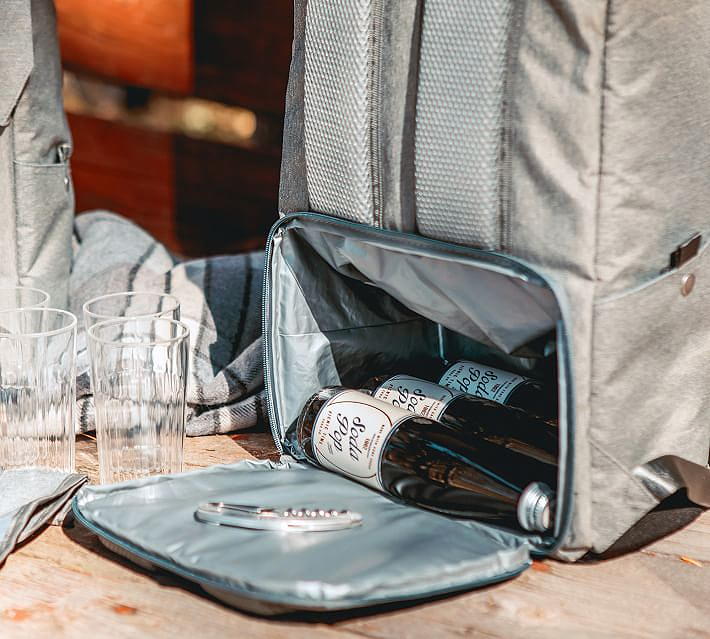 With its highly functional design, sleek looks and service for four, the Frontier Picnic Backpack is every adventurer's dream. Constructed of cationic dyed polyester and 420D polyester with faux nylon webbing, this 2-tiered backpack has adjustable padded straps, a heat sealed cooler on the bottom, and a dry compartment on top. Just fill it up and strap it to your back. Buy at Pottery Barn HERE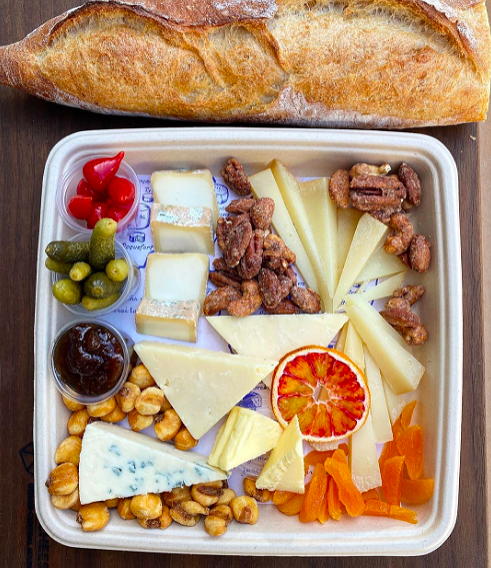 DTLA Cheese Grand Central Market Stall A-7 317 S Broadway Los Angeles, CA 90013
DTLA Cheese has introduced The Picnic Pack. This fanciful snackable cheese plate is the perfect thing to take to the park and share with friends. The Picnic Pack includes four cheeses, BobbySue's candied nuts, corn nuts, cornichons, sweets peps, dried fruit, pear balsamic jam, beurre de baratte, marou mini chocolate bar, and a baguette. All that for $35, with an option to add salami. Available to order online for curbside pickup.
Photo credits:
Photo #1: Party Picnic LA
Photo #2: Hollywood Picnics
Photo #3: Picnic Party LA
Photo #4: The Picnic Collective
Photo #5: Grand Park
Photo #6: Los Angeles State Historic Park
Photo #7: Vista Hermosa Natural Park
Photo #8: Providence Woven Picnic Basket
Photo #9: Frontier Picnic Backpack
Photo #10: DTLA Cheese