There's no place like home for the holidays. And your favorite DTLA restaurants near Circa are offering a moveable feast of dining options to enjoy in the comfort of your own home. To set the mood, dress up your table with a luscious cheese platter or colorful grazing board. Discover desserts aplenty at Hotel Figueroa's Flouring LA Holiday Dessert Pop-Up. And don't forget the tamales – La Mascota has been serving up this traditional holiday staple for over 65 years. Many menus offer vegan and gluten-free options as well. This is a great opportunity to support local businesses, so get ready to celebrate the season with a holiday feast to go. Check websites for pick up and delivery details.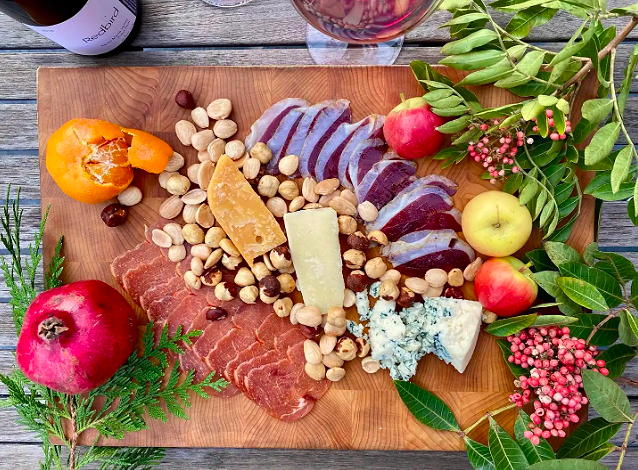 Redbird Holiday Tasting Menu 114 E 2nd St. Los Angeles, CA 90012
Redbird is offering a Holiday Tasting Menu for Christmas, New Year's, and other seasonal celebrations, available for pickup and delivery. The 7 course heat & serve menu includes: ginger pumpkin soup, truffle cavatelli, turkey roulade, New York strip bordelaise, cider glazed Brussels sprouts, pommes aligot, and sticky toffee pudding. Many items are vegan and/or gluten free. Redbird is carved into one of the city's most historic architectural gems – the former rectory building of Vibiana, cathedral-turned-event-venue. Chef Neal Fraser and Amy Knoll Fraser feature Modern American cuisine that is refined yet approachable and highlights the multi-cultural influences of Fraser's native city – Los Angeles.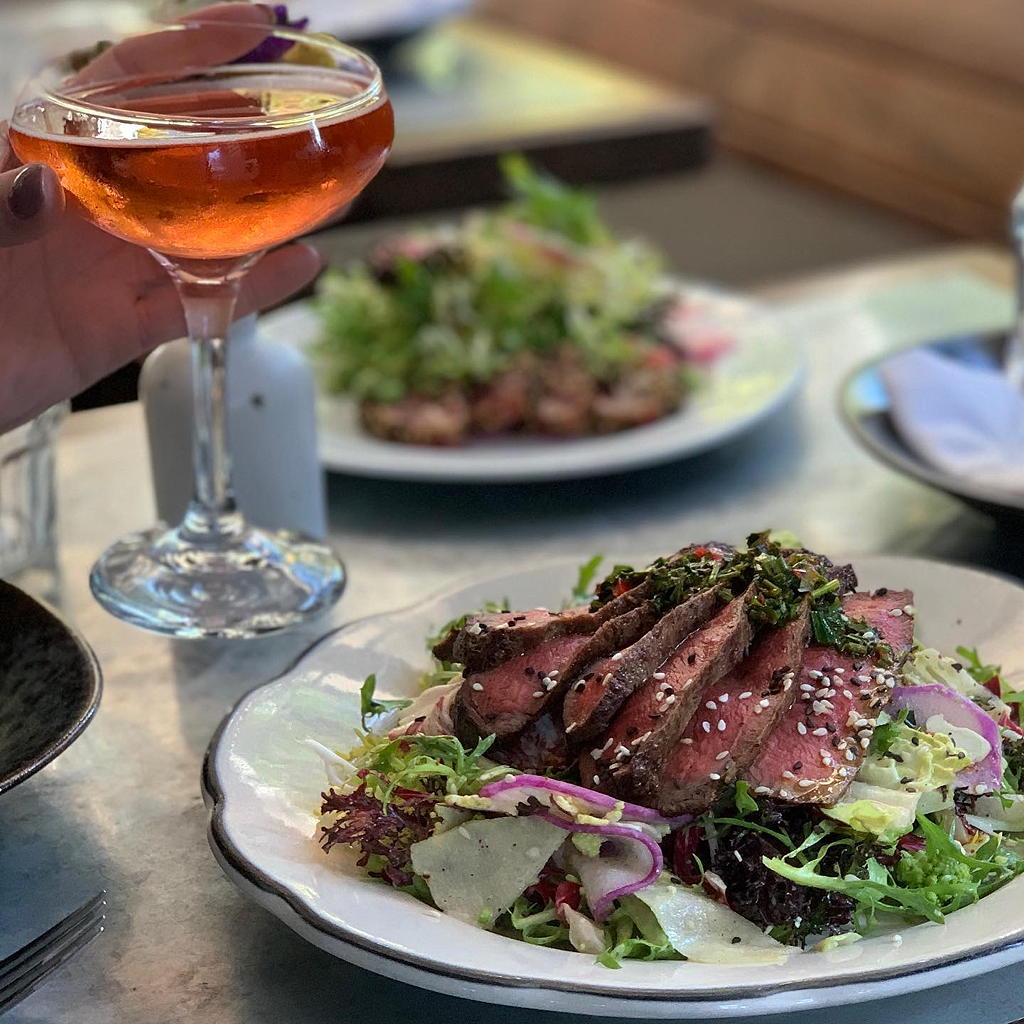 Faith & Flower 705 W 9th St. Los Angeles, CA 90015
Faith & Flower is offering a festive dinner menu and drinks for pick up and delivery. Inspired by a global influence of flavors and techniques, complemented by the use of a wood-fired oven and pristine raw bar, the menu redefines Californian rustic cuisine. Located in the Watermarke Tower in DTLA's South Park district, the name Faith & Flower pays homage to the two major Renaissance periods – the 1920s and modern day – that have fundamentally shaped the Downtown Los Angeles community. "Flower" refers to the street on which the restaurant lies today, and "Faith" for the street's alleged name during the early 1920s.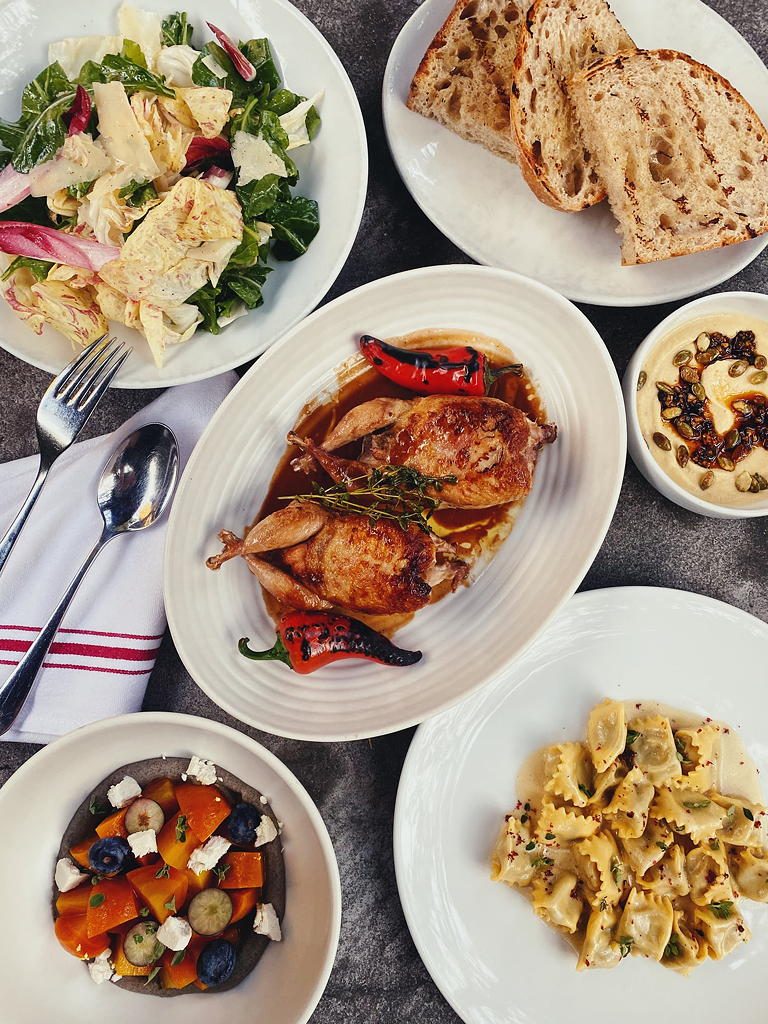 Bestia 2121 E 7th Pl. Los Angeles, CA 90021
Arts District darling Bestia presents a family-style takeout menu every week from Wednesday – Sunday. The menu changes every week, so visit their website for more details. Owned and operated by husband and wife Ori Menashe and Genevieve Gergis, Bestia features a generous selection of authentic Italian stalwarts such as antipasti, pizzas, pasta, secondi (fish, lamb, steak), finished off with dolci (mascarpone rice pudding, crème fraîche panna cotta, and bar au chocolat bittersweet chocolate budino tart). Buon appetito!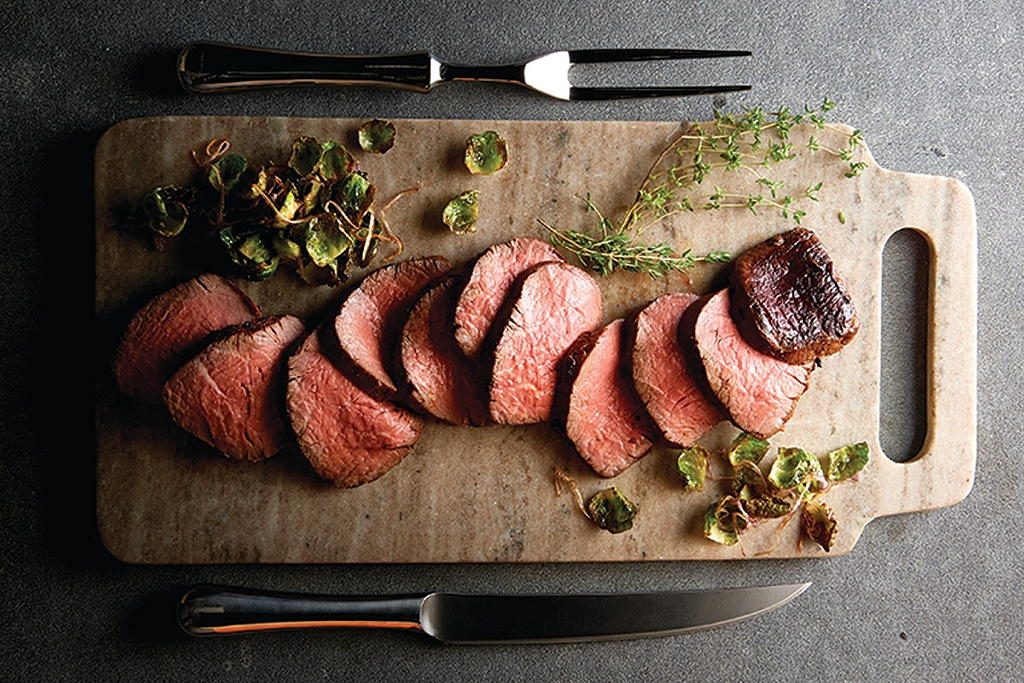 Morton's The Steakhouse 735 South Figueroa St. Los Angeles, CA 90017
Savor the holidays with a 3-course menu featuring Chateaubriand and Morton's full a la carte menu. Morton's The Steakhouse is located just four blocks from the Staples Center and LA Live, the home of Los Angeles Lakers, Los Angeles Clippers, Los Angeles Sparks Basketball, Los Angeles Kings Hockey and the Nokia Theater. Offering take-out and delivery daily from 4 – 9pm.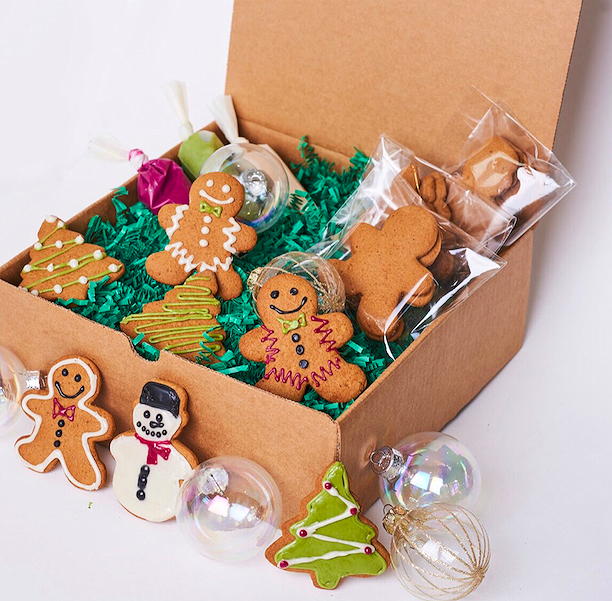 Cafe Gratitude 300 S Santa Fe Ave. Los Angeles, CA 90012
If you're looking for vegetarian, vegan and gluten-free alternatives, Cafe Gratitude has delicious sides, pies and even a Christmas Cookie Kit on pre-order for your holiday feast. All holiday sides are 100% plant based and organic, made in-house in their downtown LA location. Pies include Raw Mocha Cheesecake, Tuscan Apple Cake (baked), and Maple Spice Coffee Cake. The Christmas Cookie Kit includes 9 pre-baked gluten free ginger bread cookies and three home-made natural frostings. All ingredients are organic without any food coloring or dyes, ready to decorate at home.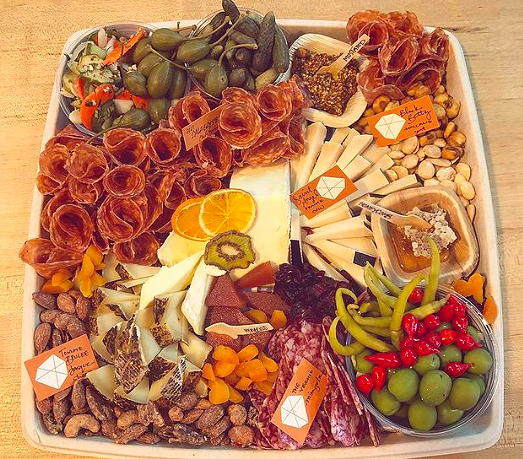 DTLA Cheese Grand Central Market 317 S Broadway #45 Los Angeles, CA 90013
DTLA Cheese has cheese boards and holiday gift boxes available to order. Cheese boards come in three sizes serving 1 -12 people. All boards include five items (choose between 5cheeses, 4 cheese/1meat, or 3 cheese/2meat), along with a delicious array of olives, cornichons, marcona almonds, membrillo, honeycomb, and dried fruit. Gift boxes are made to order and come in three sizes. DTLA Cheese is Downtown's first full-service cheesemonger, specializing in domestic and imported cheese plates, griddle sandwiches and seasonal salads.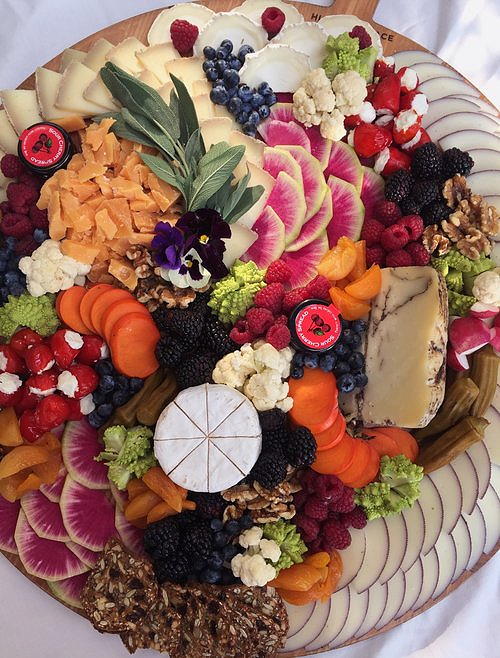 Urban Radish 661 Imperial St. Los Angeles, CA 90021
Set off your holiday table with a colorful grazing board from Urban Radish. Each hand-crafted platter is a veritable work of art, with cheese, charcuterie, fresh fruit, and crudité, all curated on a wooden board. Urban Radish is a family-owned full service market, carrying everything from fresh produce to dairy, eggs, cereal, hand-cut meats, wine & beer, and staples. Supporting local farms is at the heart of Urban Radish's commitment to the community and they pride themselves on cutting out the middle man to procure their produce directly from the growers, wherever possible. Available for both pick-up and delivery.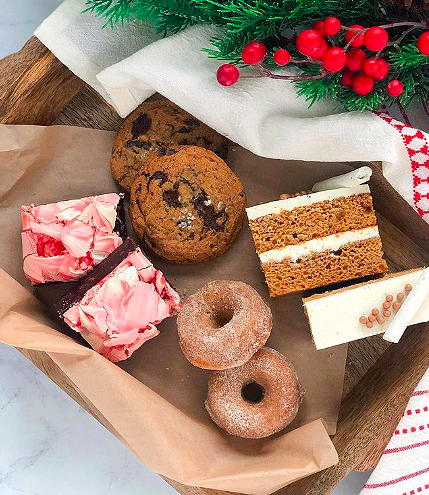 Flouring LA Holiday Dessert Pop-Up Hotel Figueroa 939 S. Figueroa St. Los Angeles, California 90015
During the month of December, Flouring LA will be hosting a pop-up shop inside Hotel Figueroa where guests and locals will be able to pick-up their pre-purchased signature Holiday boxes. The eight-piece holiday box comes with gingerbread cake bars, peppermint meringue topped brownies, cinna-sugar donuts, and Belgian sea salt chocolate chip cookies. Chef Heather Wong has been baking for Los Angeles since 2009. Flouring LA is her newest passion project, focusing on Southern California inspired taste and aesthetic, using sustainably sourced, organic ingredients from local farmers and vendors. Pre-orders can be placed by emailing flouringla@gmail.com or call 877-724-1973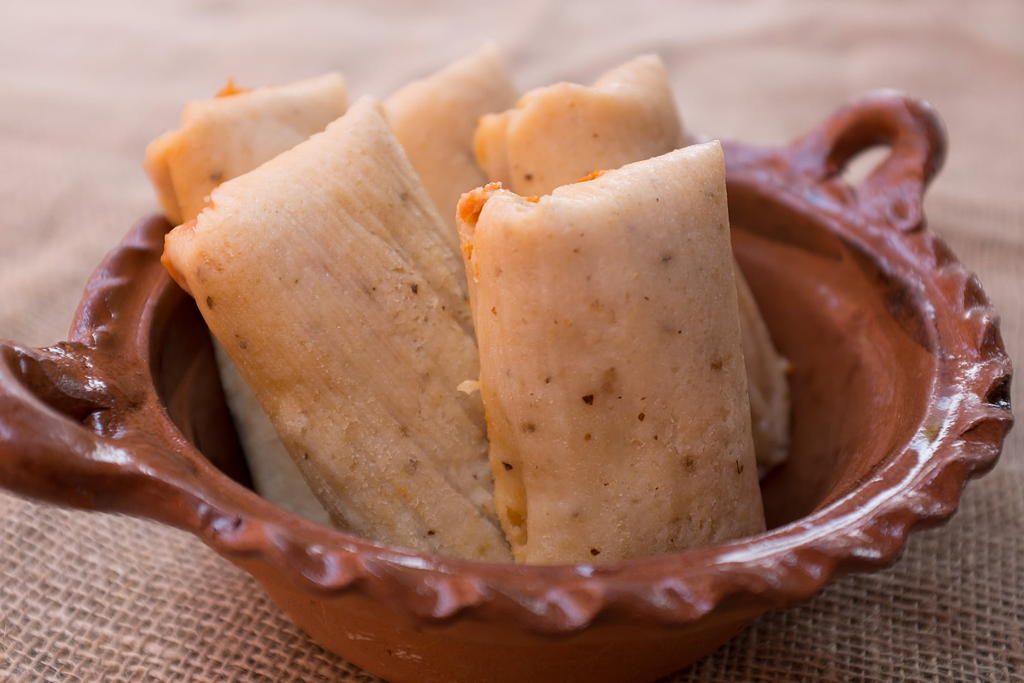 La Mascota Bakery 2715 Whittier Blvd. Boyle Heights, CA 90023
It's tamale time! For over 65 years, La Mascota Bakery in Boyle Heights has proudly supplied the community with pan dulce and other sweet treats, coffee, menudo, and of course, their legendary tamales. From pork to a newly created plant-based option, this bakery provides 13 different flavors to satisfy everyone in your holiday pod. Pre-order online for pick up and delivery.
Photo Credits:
Photo #1: Cafe Gratitude
Photo #2: Redbird
Photo #3: Faith & Flower
Photo #4: Bestia
Photo #5: Morton's The Steakhouse
Photo #6: Cafe Gratitude
Photo #7: DTLA Cheese
Photo #8: Urban Radish
Photo #9: Flouring LA
Photo #10: La Mascota Bakery