Making plans for New Year's Eve? Downtown LA is bubbling with great ways to party – from sophisticated entertainment and swanky soirées, to epic dance parties and decadent dinners. You can even take a ride on the SkySlide atop LA's tallest building – if you dare! So pop the cork, grab your noise makers, and get ready to celebrate New Year's Eve with a bang in spectacular DTLA!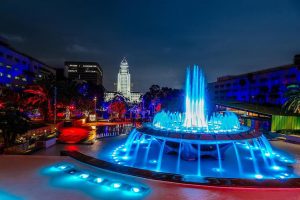 N.Y.E.L.A. Grand Park + The Music Center 200 N. Grand Ave. Los Angeles CA 90012
Ring in 2020 at the West Coast's largest New Year's Eve celebration! For the 7th year, Grand Park and The Music Center's N.Y.E.L.A. is the place to come together and party with live music, food, photo booths and amazing projection art on beautiful City Hall.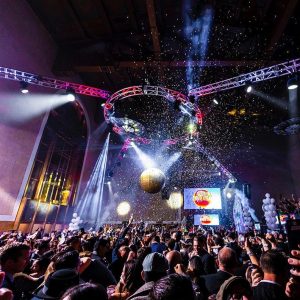 Prohibition at Union Station 800 N Alameda St, Los Angeles, CA 90012
Welcome to the New Roaring Twenties! For its 8th year, Prohibition NYE will return to the iconic Union Station and revive the excitement and glamour of this fabulous decade. Experience Los Angeles' premier New Year's Eve Party with theatrical burlesque, live jazz ensembles, a premium open bar featuring champagne & specialty cocktails, a headlining DJ Set from RAC, and Prohibition NYE's signature 60-foot, midnight ball-drop celebration!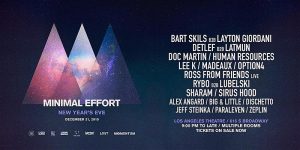 Minimal Effort Los Angeles Theatre 615 S Broadway Los Angeles, CA 90014
Minimal Effort: NYE is back to ring in 2020 at the Los Angeles Theatre, presented by Underrated, Spaceland, L'Affaire Musicale, and Orlove & LOST. Dance to your fave acts including Bart Skils b2b Layton Giordani, Detlef b2b Latmun, Doc Martin (Sublevel), Human Resources, and more! For general questions or VIP Table information, email orlove@orloveentertainment.com or call 310-384-3789.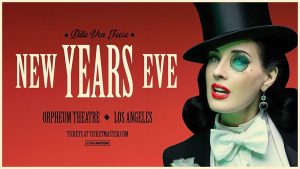 Dita Von Teese's New Year's Eve Gala Show The Orpheum Theatre 842 S Broadway, Los Angeles, CA 90014
Embark on a journey into fantasy and spectacle with Dita Von Teese's New Year's Eve Gala Show. Renowned for her ornate sets and dazzling haute-couture performance costumes, lavishly adorned with hundreds of thousands of Swarovski crystals, Von Tease is sure to please! Performing since 1992, Dita Von Tease is the biggest name in burlesque since Gypsy Rose Lee and is credited with bringing the art form back into the spotlight with a new sense of elegance and sophistication.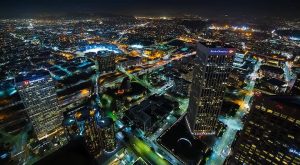 NYE Party at OUE Skyspace 633 W 5th St. #840 Los Angeles, CA 90071
Hit the heights this New Year's Eve at LA's tallest open-air observation deck – OUE Skyspace! Enjoy two floors of entertainment from three DJ's, two open air terraces and unlimited SkySlide Rides. Your All-Inclusive General Admission package includes Open Bar (9pm-1am), Appetizers, and Champagne Toast at Midnight.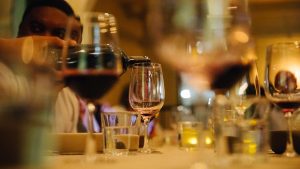 NYE at Redbird 114 E 2nd St, Los Angeles, CA 90012
Celebrate New Year's Eve at an LA icon! Located in downtown Los Angeles, Redbird is carved into one of the city's most historic architectural gems, inside the former rectory building of Vibiana – the cathedral-turned-event-venue. Chef Neal Fraser and Amy Knoll Fraser are hosting a New Year's Eve party in the East Room and West Room, both located on the second floor. Tickets are $60 per person (plus tax) including a complimentary champagne toast at midnight. Additional beverages will be charged upon consumption. In addition to the party, they are hosting a special New Year's Eve three-course dinner in the Main Dining Room.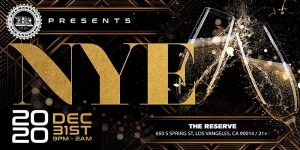 NYE @The Reserve 650 South Spring Street Los Angeles, CA 90014
Once filled with riches of the wealthiest Angelenos in the 1920s, the modern-day Reserve continues the tradition of excellence and sophistication, giving old-school elegance a new-school flair. Enjoy an unforgettable night filled with top notch glamour and enchantment setting the tone for 2020! The Reserve presents a unique taste of American History, featuring three rooms inside The Reserve and the entire venue of The Majestic, with its crystal chandeliers, painted Italian ceilings, arched windows, sculpted marble columns and original marble floors. All tickets and bottle service packages include a 5-hour open bar (9pm to 2am), midnight toast, photo booth pictures, and a special Midnight Countdown celebration in each room.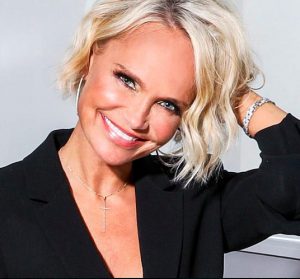 New Year's Eve with Kristin Chenoweth Walt Disney Concert Hall 111 S Grand Ave, Los Angeles, CA 90012
The wildly talented and versatile star of Broadway and TV sends 2019 out with a bang, with two performances of material drawn from throughout her career – including music from her new album For the Girls. Whether she's singing show tunes, gospel, country, or pop, the Tony® and Emmy® Award winner commands the stage with her operatic voice, unparalleled panache, and charm. Evening includes guest appearances by Shoshana Bean and Cheyenne Jackson. Arrive early and visit the festive NYE lounge in BP Hall for champagne and specialty cocktails to toast the New Year.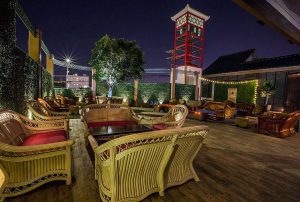 Downtown Countdown Treehouse Rooftop Lounge 686 N Spring St. Los Angeles, CA 90012
Ring in 2020 in style at the vibrant Treehouse Rooftop this New Year's Eve! Treehouse Rooftop is a beautiful indoor/outdoor venue in the heart of Chinatown, featuring state of the art design, sound, lighting and a heated outdoor patio. LA's hottest DJ's will welcome the new year with a special midnight countdown at the last party of the decade! Photo booth, NYE party favors, food & snacks will available for purchase all night.