Cinco de Mayo is right around the corner. Time to round up your crew and head out for some soul satisfying Mexican food, washed done with a frosty Margarita or two, along with a shot of premium tequila or rare mezcal. Not far from Circa, you'll find El Pueblo de Los Angeles, the birthplace of Los Angeles, which is now a historical monument, home to museums, exhibits, and the world famous Olvera Street marketplace. DTLA is also boasts some of the city's most iconic and award-winning Mexican restaurants, rooftop oases, and craft cocktail bars, serving everything from traditional cuisine to chef-driven menus. Reservations for Cinco de Mayo are highly recommended.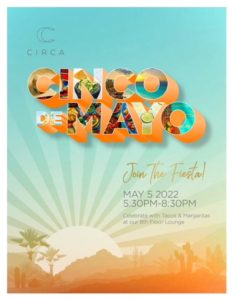 Join the fiesta! Circa residents are invited to our Cinco de Mayo celebration this Thursday at the 8th Floor Lounge. We'll be serving tacos & margaritas from 5:30PM to 8:30PM.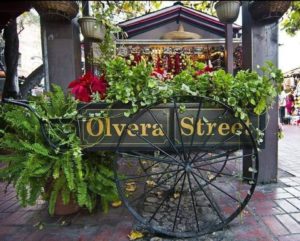 Olvera Street El Pueblo de Los Angeles 125 Paseo de la Plaza Los Angeles, CA 90012
Celebrate Cinco de Mayo in the birthplace of Los Angeles – El Pueblo de Los Angeles. Founded in 1781, El Pueblo de la Reina de Los Angeles (the Town of Our Lady the Queen of the Angels) is now a historical monument, home to free museums, exhibits, and the world famous Olvera Street marketplace.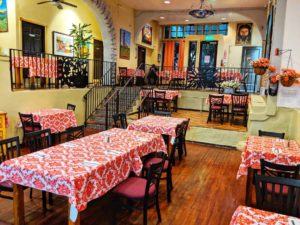 Casa La Golondrina Mexican Cafe W-17 Olvera St, Los Angeles, CA 90012
Established in 1924, Casa La Golondrina Mexican Cafe is a historic landmark in the heart of the Olvera Street marketplace. This iconic restaurant offers authentic Mexican cuisine and fresh margaritas made with real fruits including strawberry, mango, cucumber and more.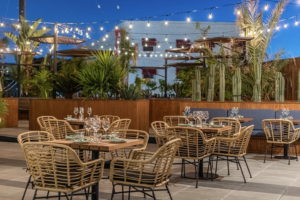 LA Cha Cha Chá 812 E 3rd St. Los Angeles, CA 90013
The sister location of Terraza Cha Cha Chá in Mexico City, LA Cha Cha Chá is located in a chic outdoor rooftop space in the Arts District. The restaurant offers gorgeous views of DTLA and a notable menu by Mexico City-born, LA-raised chef Alejandro Guzman. There are traditional starters like aguachile, ceviche, chicharos de sierra with fresh peas, and crispy potato – a revamped family recipe. Cha Cha Cha also offers a tacos and tostada menu, along with more substantial dishes like grilled fish, charcoal roasted chicken, and pork shoulder confit carnitas.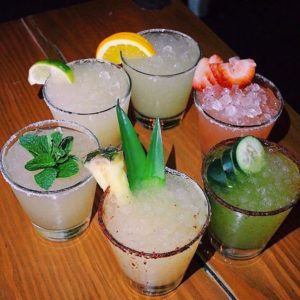 Las Perlas 107 E 6th St. Los Angeles, CA 90014
Las Perlas, the nation's first mezcal bar, opened in March 2010 in the historic Sante Fe building at Sixth & Main in DTLA. This Oaxacan style cantina exists as a living tribute to Mexico's native spirit, mezcal, with the finest selection of more than 400 premium agave spirits in the United States. Las Perlas cocktails arrive garnished with everything from wild hibiscus flowers to the Oaxacan delicacy of spicy, roasted chapulinas, while also offering ice cold Mexican cerveza. Get your fill of tacos, taquitos, mulitas, and more – available on the patio daily.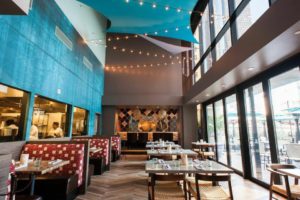 Pez Cantina 401 S Grand Ave, Los Angeles, CA 90071
Pez Cantina is celebrating Cinco de Mayo with live music, dancing and great food. Pez Cantina is a sustainable Coastal Mexican-style restaurant and bar serving the freshest sea-to-land dishes in an oasis-type atmosphere. The menu focuses on dishes from the many distinct regions of Mexico: from Baja, to Oaxaca, to the Yucatan Peninsula. A fine-tuned selection of bright and eclectic cocktails, California-focused wine list and craft beers, round out the menu.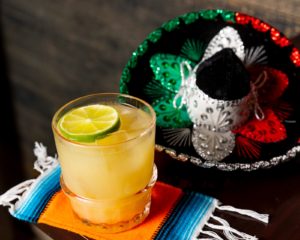 Mezcalero 510 S Broadway Los Angeles, CA 90013
The name that says it all! Mezcalero is a small, laid-back joint in the heart of DTLA, presenting a dizzying selection of mezcal. tequila and other agave spirits, along with craft beer and Mexican street food. The down-to-earth staff, lead by mixologist Nathan McCullough, loves sharing and shaking up craft cocktails while generating a welcoming environment for all. Mezcalero offers daily happy hour specials, Taco Tuesdays, and Cocktail To Go. So come on by any day of the week and experience the local love and dedication. Salud!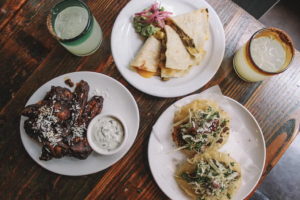 Bar Amá 118 W 4th St. Los Angeles, CA 90013
AMÁ is chef Josef Centeno's homage to the Tex-Mex cooking he grew up on – casual, inventive, delicious dishes inspired by four multi-cultural generations of Tejanos and their love of food. The menu will tingle your tummy with specialities like fideo and borracho beans with cilantro and pork belly, simmering on the stove. The bar offers a great selection of tequilas and mezcals, along with absinthe, whiskey, gin, beer, wine, and more.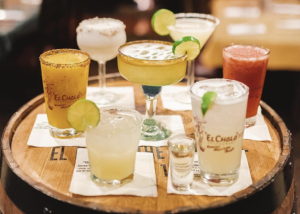 El Cholo 1037 S. Flower St Los Angeles CA 90015
Since first opening their doors at the original site on Western Avenue in 1923, El Cholo has operated as a family-owned business. Today, this popular restaurant has expanded to seven locations, run by Ron Salisbury, grandson of the founders. Enjoy traditional favorites like blue corn chicken enchiladas, green corn tamales, enchiladas suiza, tortilla soup, burritos, carne asada, and combination plates. They also offer an array of margaritas and specialty tequilas.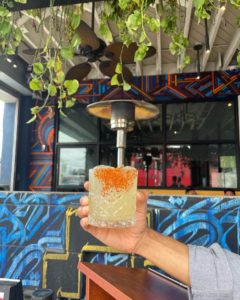 Guerilla Tacos 2000 E 7th St. Los Angeles, CA 90021
From a popular food truck, Guerilla Tacos has evolved to a contemporary restaurant and bar specializing in great margaritas and other craft cocktails, along with world-class dishes inspired by the flavors of the city, made with local ingredients and served on a tortilla. Celebrate Cinco de Mayo in their dining room or festive outdoor patio.
Photo Credits:
Photo #1: Mezcalero
Photo #2: Circa LA
Photo #3: Olvera Street
Photo #4: Casa La Golondrina Mexican Cafe
Photo #5: LA Cha Cha Chá
Photo #6: Las Perlas
Photo #7: Pez Cantina
Photo #8: Mezcalero
Photo #9: Bar Amá
Photo #10: El Cholo
Photo #11: Guerilla Tacos