Let's face it, sometimes you just want to sink your teeth into a juicy burger or succulent steak! Go ahead and indulge your carnivorous cravings. Meat has all the nine essential amino acids you need in order to build and rebuild every cell in your body. A satisfying meat-a-palooza also makes you feel better, by boosting pleasure-inducing dopamine and soothing serotonin.
Whether you prefer a classic burger, hearty Brazilian-style feast, smoky BBQ chow-down, or an elegant steakhouse dinner, you can eat your fill of meaty goodness in DTLA. Meat not your thing, but you still want to tag along with your friends? You'll never starve in this town! Scan the menu for fresh salads, veggie burgers, healthy sides – and save room for dessert!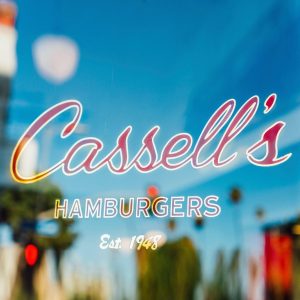 Cassell's Hamburgers DTLA 421 W 8th St, Los Angeles, CA 90014
Fans of Cassell's Hamburgers in mid-Wilshire have reason to rejoice! Late last year, founders Christian Page, Jingbo Lou, and Elia Aboumrad completed their takeover of the former Pellicola Pizzeria in Downtown LA, conveniently located right next to the iconic Golden Gopher bar. Cassell's downtown outpost features their renowned patty melt, along with some new menu items, such as chicken cutlet sandwich on ciabatta roll, hoagie with nitrate-free meats and provolone, and ice cream shakes using McConnell's ice cream.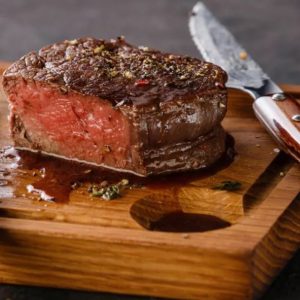 H&H Brazilian Steakhouse 518 W 7th St, Los Angeles, CA 90014
H&H Brazilian Steakhouse is a new take on Brazilian food, brimming with healthful recipes. The restaurant was founded by Henrique Huyer with the mission of bringing authentic, traditional Brazilian barbecue from Rio Grande do Sul, Brazil. to the American market. H&H is committed to working with only the best suppliers, serving top-quality organic, grass-fed meat and local produce that you can enjoy with unique wines from South America. The menu caters to nearly every food preference with a variety of beef, lamb, pork and chicken dishes. The extensive salad bar presents gluten-free, naturally organic, vegetarian and vegan offerings as well.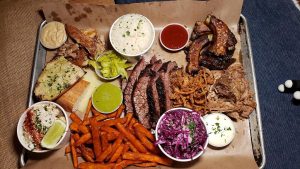 L.A. Brisket 736 N Broadway, Los Angeles, CA 90012
A popular destination originating in Artesia, L.A. Brisket recently opened a spiffy brick-and-mortar location in Chinatown. The restaurant specializes in hand crafted snadwiches loaded with all natural meat sold by the pound, with house BBQ sauce and bread. The menu offers brisket, chicken, pulled pork, pork ribs, and BBQ Bowls served with LA slaw, salsa verde, garlic, and jasmine rice. Sides include elote (grilled Mexican corn), French fries, truffle fries, and sweet potato fries.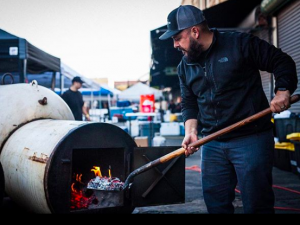 Moo's Craft BBQ at Smorgasburg 787 S Alameda St, Los Angeles, CA 90021
Perhaps the best underground barbecue cooking in Los Angeles, Moo's Craft Barbecue is smoking up a storm every Sunday at Smorgasburg ROW DTLA. The Texas-styled menu includes classics like ribs and brisket, with owners Michelle and Andrew Muñoz at the helm. Launched in June of 2016, Smorgasburg LA has become the largest weekly open-air food market in Los Angeles, attracting 8,000 to 12,000 attendees every Sunday, year round. Located on the five-acre site of the weekday 7th Street Produce Market in ROW DTLA, Smorgasburg LA features over 90 food vendors, a beer garden offering local craft beer and micheladas, live DJs, cultural events, pop-ups, and sophisticated shopping including design, craft, style, vintage, wellness, and more. Sundays, 10 AM – 4 PM. Sorry, no pets allowed.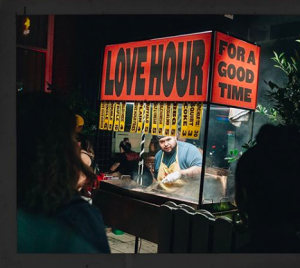 Love Hour at Smorgasburg 787 S Alameda St, Los Angeles, CA 90021
While you're at Smorgasburg, be sure to stop by Love Hour – featuring the smash-style patty that has become the new standard for street and backyard pop ups around town. The first permanent burger tent at Smorgasburg, Love Hour offers a minimalist menu comprised of single and double patty smash burgers and fries. The meat is pressed thin and cooked on a grill at a high heat, which sears in the flavor and creates a delicious crusty exterior.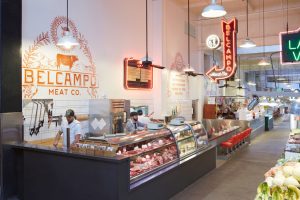 Belcampo Meat Grand Central Market 317 S Broadway, Los Angeles, CA 90013
Part country cafe and part full-service butcher shop, Belcampo Meat presents organic, grass-fed meats that have been raised on their own 10,000 acre ranch near Mount Shasta, and custom-butchered in house. Grab a seat at their modern-meets-retro counter service diner for breakfast or lunch. Indulge in the signature organic grass-fed burgers while people watching and enjoying a glass of beer or wine. Or stop by after work to pick up their ever-changing rotation of Grab & Go foods, or convenient reheat & eat options to bring home for dinner.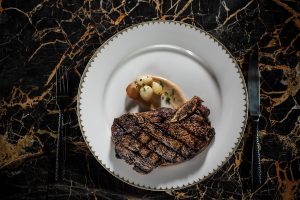 La Boucherie 900 Wilshire Blvd Fl 71 Los Angeles, CA 90017
Elevate your evening with an unforgettable dinner at La Boucherie at the InterContinental Los Angeles Downtown, which occupies 37 floors of the Wilshire Grand Center. The Wine Spectator award-winning steakhouse offers breathtaking panoramic views of Los Angeles and a delectable menu featuring reimagined dishes, premium steaks, and first-rate seafood sourced from around the globe. The restaurant also features a cheese cave and charcuterie atelier, complemented by offerings from the extensive, award-winning wine list of 1,200 different types, all of which can be enjoyed from the comfort of private dining rooms or discrete Starlight Booths.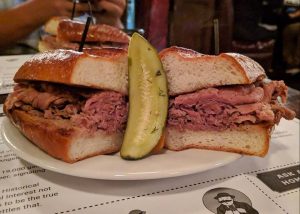 Cole's French Dip 118 E 6th St, Los Angeles, CA 90014
Cole's, Originator of the French Dip Sandwich, opened in 1908 in the Pacific Electric building. Evoking the spirit of an early 20th century saloon, the welcoming 40-foot Red Car Bar boasts original glass lighting, penny tile floors, and historic photos, preserved in the restoration of the cherished landmark. During Prohibition, Cole's was a favorite hangout for gangsters like Mickey Cohen (If you were a regular customer, your "coffee" came with a little something extra!). Today, continuing the tradition of the Golden Age of American cocktails, the Red Car Bar's ample selection of premium spirits, drafts, and historic cocktails compliment the saloon's classic French Dip sandwiches, appetizers, salads and sides.