Making weekend plans? Brunch is back and we couldn't be happier. DTLA eateries are offering an array breakfast favorites, from decadent Belgian waffles smothered in fruit and cream to tasty chicken & waffles, and classic egg platters. If you're feeling adventurous, you'll also find some more exotic fare, like duck confit chilaquiles, chicken schnitzel, ceviche, poblano and goat cheese quiche, and vegan garden hash. Pair your meal with a steaming cappuccino or craft cocktail, or celebrate with a bottle of bubbly. When you live at Circa, you'll never run out of options. So take a break for breakfast – because we love a good comeback!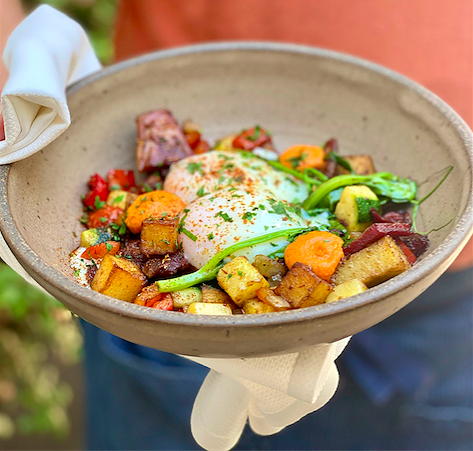 Redbird 114 E 2nd St. Los Angeles, CA 90012
Brunch is back at Redbird. Dine on their outdoor patio and indulge in an eclectic menu featuring ricotta blueberry pancakes. Maine lobster sushi, vegan garden hash, duck confit chilaquiles, and other decadent dishes created by Chef Neal Fraser. Redbird is carved into one of the city's most historic architectural gems – the former rectory building of Vibiana, cathedral-turned-event-venue. Redbird features Modern American cuisine that is refined yet approachable and highlights the multi-cultural influences of Fraser's native city, Los Angeles. Saturdays and Sundays with reservations from 10am – 2pm.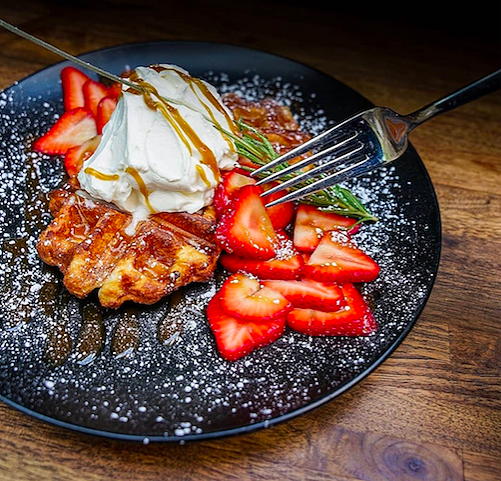 Strada Eateria & Bar 825 W 9th Street Los Angeles, CA 90015
Situated near Staples Center, Strada Eateria & Bar presents world flavors made with local ingredients. Strada is now offering a special brunch menu including waffles, tapas, pizza, seafood, pasta, and various meat dishes. Vegan, vegetarian and omnivore choices are available as well. Back by popular demand, large-scale video projections by visual artist and filmmaker Nataša Prosenc stream inside and on the patio. On Sundays, the projections are accompanied by live music of L.A. Jazz Connection. Free parking. Reservations are recommended.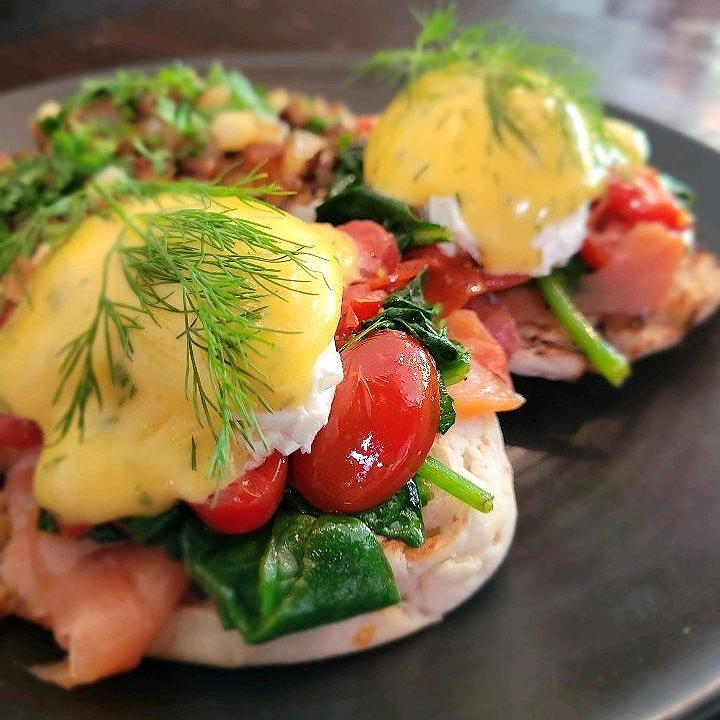 Blu Jam Cafe 541 S Spring St. Los Angeles, CA 90013
Opened in 2006 by Owner/Chef/Sommelier Kamil Majer and business partner David Fris, Blu Jam Cafe has garnered an impressive following, becoming one of the best brunch spots in Los Angeles. Breakfast at Blu Jam Café is a high-flying affair, with a dizzying array of both global and home-style favorites. Some of their notorious crowd pleasers include Crunchy French Toast, served with fresh fruit and a vanilla-bean dipping sauce; Chicken Schnitzel, a breast of chicken pan-fried and served with potatoes, green beans, and lemon; and their classic Fresh Blueberry Pancakes. We just happen to be mad for the Norwegian Benedict, pictured above.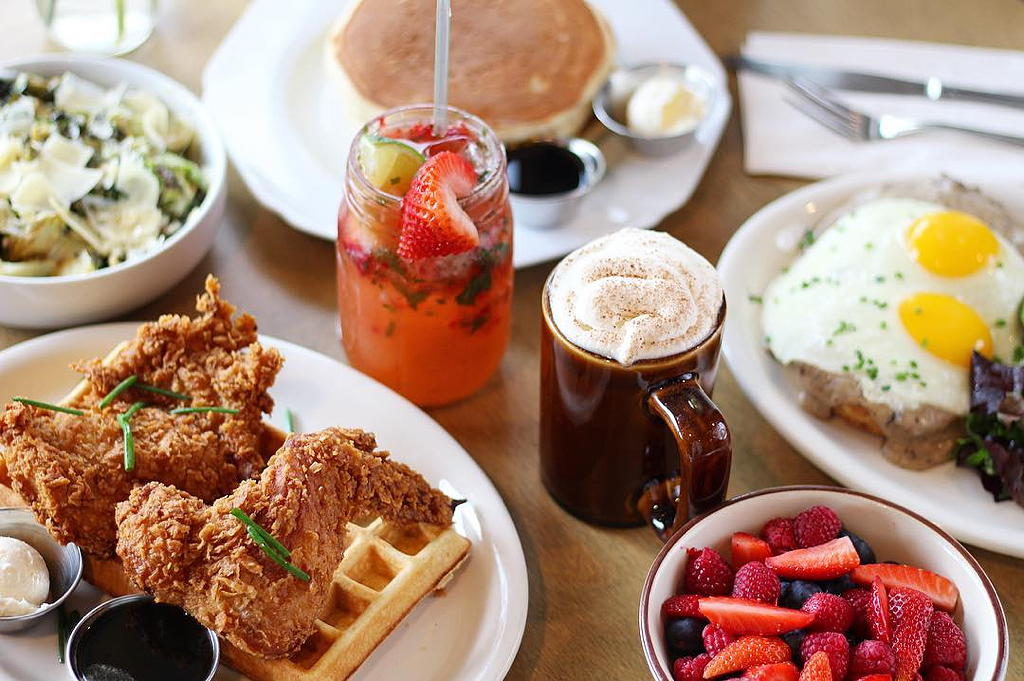 Poppy + Rose 765 Wall St. Los Angeles, CA 90014
Featured on LA Weekly's Best of L.A. Food & Drink, Poppy + Rose is inspired by the country kitchens we all know and love. A collaboration between Diana Yin and Chef Michael Reed, the restaurant serves classic American diner fare prepared with honest ingredients. Their signature Fried Chicken & Waffles are made with free-range Mary's chicken and a Belgian-style waffle. Biscuits are baked from scratch every morning with real butter, and fries are hand cut from fresh Kennebec potatoes. Poppy Patio is open Friday thru Sunday.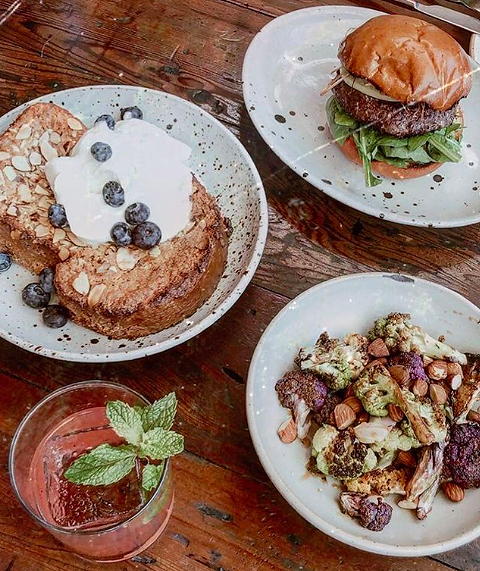 Manuela 907 E 3rd St. Los Angeles, CA 90013
Located in the DTLA Arts District, Manuela unites chef, farmer and artist to create an authentic and original dining experience. Under the direction of Executive Chef Kris Tominaga, the menu celebrates seasonal ingredients sourced from the best farms and producers in Southern California. The Southern-inflected brunch includes tasty dishes such as flan with buñelo; berries and burnt sugar syrup; a poblano and goat cheese quiche, brioche French toast, and cream biscuits with jam and butter. Open for indoor and patio dining.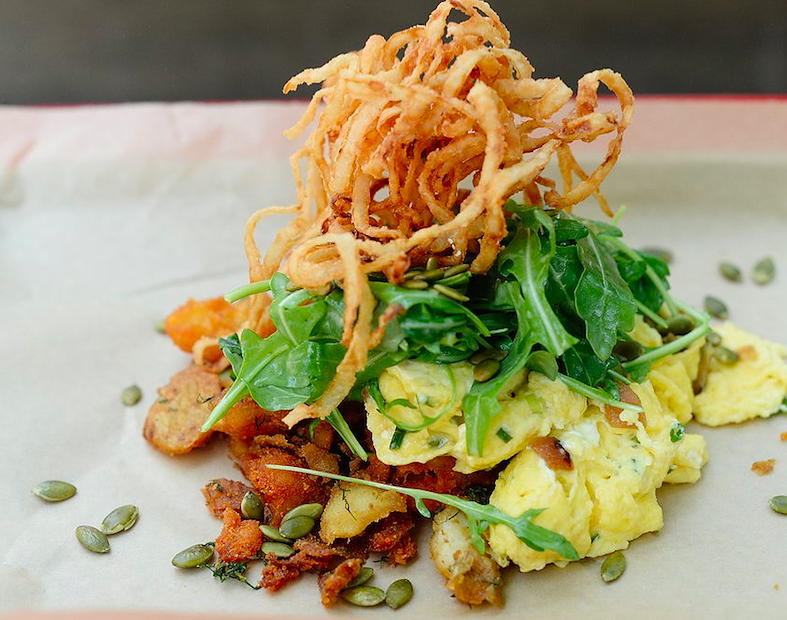 KTCHN DTLA 428 S Hewitt St. Los Angeles, CA 90013
KTCHN DTLA is a weekend pop-up brunch spot featuring elevated breakfast dishes and cocktails in an open, airy venue. The location and menu have changed over time, but the quality of food stays the same. KTCHN DTLA is currently situated at Resident in the Arts District. Some favorite dishes to try include Tomato Burrata sandwich with sun-dried tomato aioli and burrata cheese; Chilaquiles with tortilla chip strips and house chile sauce; and Mediterranean Pots, crispy potatoes topped with hummus and fattoush tzatziki. They also have lots of different kinds of potatoes. Let go of any expectations and trust that you will have a great time and an amazing meal.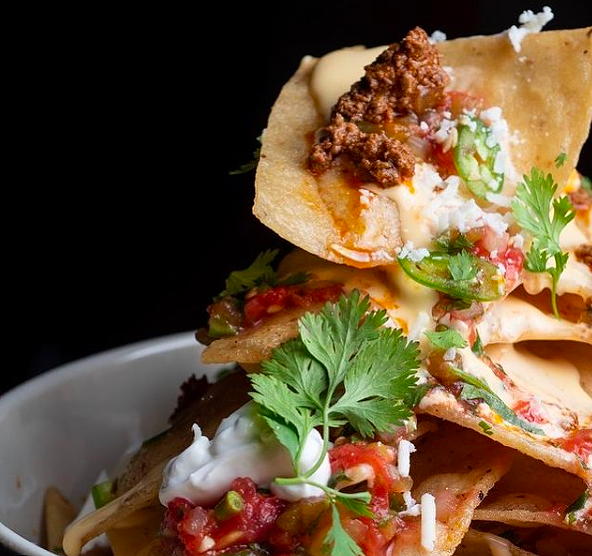 Bar Amá 118 W 4th St. Los Angeles, CA 90013
This Tex Mex hot spot will tingle your tummy with specialities like fideo and borracho beans with cilantro and pork belly simmering on the stove. Chef Josef Centeno created Bar Amá as his interpretation of the food he was nurtured on by the women who raised him, and the menu reflects that comfortable sense of home. The bar offers a great selection of tequilas and mezcals, along with absinthe, whiskey, gin, beer, wine, and more. Open for indoor and patio dining, plus pickup & delivery.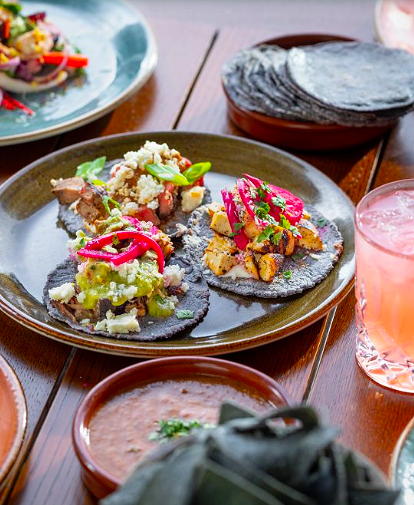 La Casita Hotel Figueroa 939 S Figueroa St. Los Angeles, CA 90015
With summer in full swing, Hotel Figueroa is thrilled to welcome visitors to a lavish experience with the opening of two new poolside spaces, La Casita and Driftwood Pool & Sundeck. La Casita is a quintessential haven featuring a coastal inspired menu by Chef AJ McCloud with ingredient-forward, organic fare such as Ceviche Classico and Grilled Shrimp Tacos, along with a world-class cocktail program replete with an expansive agave program. The festivities begin at 11am seven days a week.
Photo credits:
Photo #1: Paris Baquette
Photo #2:Redbird
Photo #3: Strada Eateria & Bar
Photo #4: Blu Jam Cafe
Photo #5: Poppy + Rose
Photo #6: Manuela
Photo #7: KTCHN DTLA
Photo #8: Bar Amá
Photo #9: Hotel Figueroa