Welcome to the Circa Blog! Every week we'll be sharing stories about everything you love about DTLA–from Arts & Culture to Culinary Hot Spots, Shopping, Architecture & Design, Hidden Gems, and so much more. With its stellar location, Circa is clearly at the epicenter of it all.
But did you know that Circa is also moments away from some of LA's most iconic historic neighborhoods? If you're curious to find out more, consider joining the Los Angeles Conservancy, which, in addition to its preservation mission, offers amazing historic tours and special programs such as Last Remaining Seats –classic movies screened in LA's gorgeous historic theatres.
Beyond LA: Palm Springs Modernism Week and Pasadena Heritage Craftsman Weekend are coming up soon. These popular events attract thousands of visitors annually, so get your tickets before they sell out!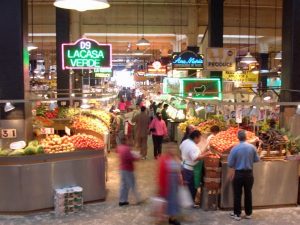 LA Conservancy Historic Downtown Walking Tours
Saturdays at 10 a.m. & Wednesdays at 11 a.m. Meeting location: Pershing Square
Discover downtown LA's fascinating history and architecture, and explore some of the city's most beloved landmarks, such as the Central Library, the U.S. Bank Tower, and the Bradbury Building! The LA Conservancy Historic Downtown walking tour offers a great overview of architecture, from the eighteenth century to the present. Starting at Pershing Square, docents will acquaint you with the area's unique character, told through its magnificent buildings. The tour itinerary includes a ride aboard the historic funicular Angels Flight (ticket is included in the cost of your tour). Tour-goers who choose not to ride Angels Flight may use a staircase that parallels the funicular's route (but there is no fare refund). Ready for more? The Conservancy offers tours of other historic neighborhoods and focal points including Angelino Heights, Art Deco, Broadway Historic Theatre and Commercial District, Union Station and more. Complete list of Walking Tours here.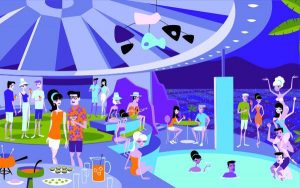 Palm Springs Modernism Week February 14-24, 2019
Modernism Week's signature February Event is an annual celebration of midcentury modern design, architecture, art, fashion and culture, attracting visitors from around the world. Taking place in Palm Springs and surrounding areas, Modernism Week features a kaleidoscope of more than 350 events including the Modernism Show & Sale, Signature Home Tours, films, lectures, Premier Double Decker Architectural Bus Tours, nightly parties, walking and bike tours, classic cars, a vintage travel trailer exhibition, and more. Modernism Week is also a charitable organization, providing scholarships to local students pursuing college educations in the fields of architecture and design; as well as supporting local and state preservation organizations and neighborhood groups in their efforts to preserve modernist architecture throughout the state of California.
EARLY BIRD ALERT: Tickets go on sale November 1, 2018 and many events sell out quickly!
Craftsman Weekend November 9-11, 2018
A tribute to Pasadena's unique contributions to the American Arts & Crafts Movement, Pasadena Heritage Craftsman Weekend is the largest, most comprehensive celebration of the Craftsman Movement in the Western United States. The Weekend's offerings will include a Drive Yourself Craftsman Home Tour, Gamble House Lecture and Tour, and a variety of interesting bus and walking tours. Other festive options include the Opening Reception at the historic Blinn House, Traditional Tea Ceremony at the Storrier Sterns Japanese Garden, and Evening Reception, also at the Storrier Sterns. You can customize your weekend by purchasing tickets to the events of your choice.