There's something about November that makes us want to celebrate! The weather is changing, and the air is crackling with anticipation for the busy season ahead. But before you dive down the holiday rabbit hole, take some time out for yourself. From wine and food events, to great music and immersive experiences, make this a November to Remember – with L:A's best food, fairs, and festivals!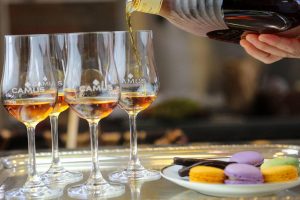 USA Today Wine & Food Experience LA Centre Studios 450 S Bixel St. Los Angeles, CA 90017
Nov 9 The USA TODAY Wine & Food Experience presents rich and colorful moments for guests to taste, savor and explore the Los Angeles culinary scene, from local trends to regional traditions. Enjoy the Grand Tasting: a gourmet showcase by local chefs, emerging talent and nationally renowned culinary leaders who mix with patrons in a convivial setting. Lively cooking demonstrations, chef meet & greets, and seminars deliver unforgettable experiences for fans, connoisseurs, partners, purveyors, and industry personalities. Indulge in the VIP experience for an hour early admittance into the experience, plus a chance to mix and mingle with chefs. Elevate your experience even further with additional Meet & Greet opportunities with celebrity talent.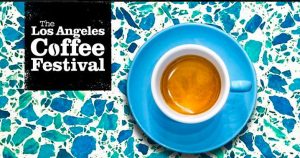 LA Coffee Festival Magic Box @The Reef 1933 S Broadway Los Angeles, CA 90007
Nov 8-10 Back for a second year and based on the highly successful programs in London, New York and Amsterdam, this caffeinated event is an unmissable show for all serious coffee lovers and key industry stakeholders. The Festival will feature live experiences from coffee, food and equipment suppliers. Visitors will enjoy endless free coffee tastings, interactive workshops, demonstrations from world-class baristas, delicious street food, intoxicating coffee cocktails, live music, art and so much more.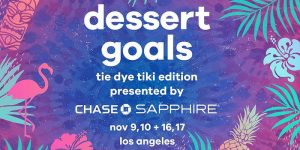 Dessert Goals Evolve Project LA 1921 Blake Ave. Los Angeles, CA 90039
Nov 9-10, 16-17 Don your tie-dye and tropical prints and gather your dessert-loving friends, because Dessert Goals is back in LA for the Tie Dye Tiki edition, presented by Chase Sapphire®! General Admissions ticket includes entrance into the event for 1.5 hours; access to a drool-worthy roundup of 20+ of the best dessert vendors in LA (+ a few from New York), with desserts available for purchase; a Candy Bar with free candy; a savory Salt Bar to cleanse your palate; complimentary Rise Brewing Co cold brew coffee, Boxed Water, Vita Coco, OLIPOP + Koia; one complimentary snack from My/Mo Mochi Ice Cream; and more. Share your fun in an Instagram Garden filled with custom Insta-friendly backdrops.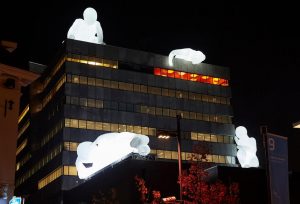 Fantastic Planet FIGat7th 735 S Figueroa Street Los Angeles, CA 90017
Until Nov 10 Four giant, illuminated humanoid figures have taken over FIGat7th and are observing the human activity at this bustling retail center! These giants from afar are quiet and gentle, yet curious about our fantastic planet and its inhabitants. Created by Australian artist Amanda Parer, these edgy and ephemeral artworks explore the natural world, its fragility and our role within it. Inspiration for this light installation has been taken from the 1973 Czech/ French film Fantastic Planet (La Planète Sauvage). Fantastic Planet is free and open to the public as part of Arts Brookfield's continued effort to bring the public spaces of Brookfield Properties to life through music, film, interactive experiences, and visual art.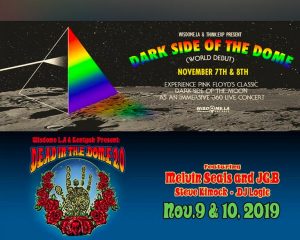 Wisdome.LA Jam Week 1147 Palmetto St. Los Angeles, CA 90013
Nov 7-10 Check the out immersive arts and entertainment park Wisdome in DTLA for four days of mind-bending 360 VR concerts featuring the music of Pink Floyd, The Grateful Dead, and Jerry Garcia. On Nov 7th & 8th, experience Dark Side of The Dome featuring the all-star band Think:EXP, which includes former members of Pink Floyd, Jane's Addiction, Kid Rock and Fishbone as they perform Pink Floyd's iconic album "Dark Side of The Moon" end to end, accompanied by custom Floyd inspired visuals. The weekend of Nov 9th & 10th, Wisdome transforms into a Dead Head's virtual dream world as Melvin Seals and JGB perform live with special guests Steve Kimock and a DJ set by DJ Logic. The event is highlighted by an interactive and immersive Dead Head playground featuring a Shakedown Street with vendors, food and a microbrew beer garden!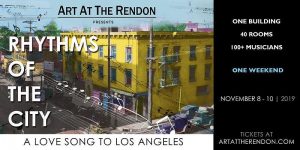 Art at The Rendon // Rhythms of the City The Rendon 2055 East 7th St. Los Angeles, CA 90021
Nov 8-10 Art At The Rendon presents ​RHYTHMS OF THE CITY, ​ an immersive, site-specific experience that will fuse various styles of live music and dance into a simultaneous, collaborative performance that transforms the building itself into a musical instrument. Following the success of ​HIDDEN ROOMS ​and ​STORIES in 2018, Art At The Rendon's latest production will highlight the musical and cultural diversity of Los Angeles, while emphasizing the synergy of the city as a whole. 100% of proceeds will benefit Play with Music, a local nonprofit that provides music education to underserved schools in Los Angeles.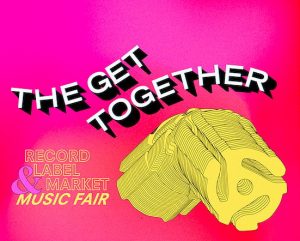 Get Together Music Fair The Geffen Contemporary at MOCA 152 North Central Ave. Los Angeles, CA 90012
Nov 15-16 Spaceland and Other Music Present: The Get Together 2019 Label Fair and Music Festival, bringing together some of the most exciting independent record labels across genres, locally, nationally, and internationally, The Get Together fosters a vibrant music community of artists, fans, and industry alike. After three seasons programming the Come Together Label Fair at MoMA PS1 in New York, Other Music joins up with Spaceland to bring The Get Together to MOCA, with dozens of amazing labels selling vinyl and other merchandise. Meet and mingle with the teams behind the records you love and enjoy live performances, DJs, exhibits, and much more.