Spring is in the air! Time to spruce up your space with a fresh new look! The top 2019 Interior Design Trends are hot off the presses at international design shows such as Paris' Maison et Objet, Milan Design Week, and the UK's CovetED magazine, so let's get inspired!
If 2018 was all about neutral palettes, 2019 finds balance with provocative pops of color, such as Pantone's 2019 color of the year–Living Coral–along with saturated moody hues like Hunter Green, digitally-inspired shades of violet and pink, soft terracottas, and optimistic yellow.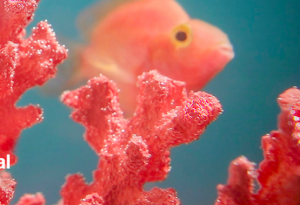 Pantone's Color of the Year – Living Coral
Sleek mid-century modern styles continue to prevail, punctuated by gold, silver and black matter metallic accents; bold graphic area rugs, and sculptural lighting. Other major trends include Asian influences, bright and muted florals, plush velvets, and raw materials such as rattan and reclaimed wood. Ready to snap up a great deal? Secondhand and vintage stores are bursting at the seams with discarded furniture and home accessories, thanks to Marie Kondo's popular decluttering craze.
However you choose to curate your home, DTLA is the ultimate destination for the best Interior Design Trends of 2019!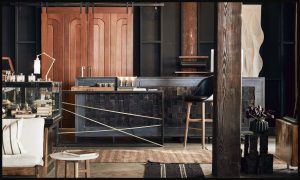 Hammer and Spear 255 S Santa Fe Ave. Los Angeles, CA 90012
Launched in 2013, Hammer and Spear is a showroom and full service multidisciplinary interior design studio, with a team of interior designers, architects, and product designers. Located in a historic brick building in the heart of the Arts District, this dual-functioning environment lends itself to a creative atmosphere, which permeates both the retail and design settings. Founders husband and wife Scott Jarrell and Kristan Cunningham present a carefully curated, sophisticated array of home furnishings, accessories, art objects, and lifestyle products.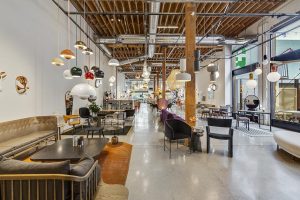 A + R Row DTLA 777 S Alameda St #100 Los Angeles, CA 90021
A+R stands for Andy and Rose: British ex-pat Andy Griffith, a former film editor and self-avowed design junkie, and Rose Apodaca, a pop culture and style journalist and author. From sofas to stools, clocks to carafes, tables to lightning, A + R's oeuvre is design that charms, functions and inspires. Need some style advice? A + R has a knowledgeable team in-store and behind the scenes who will share their enthusiasm for design, bound by the pursuit of aesthetics and innovative ideas.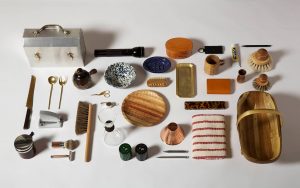 The Good Liver 705 Mateo St Los Angeles, CA 90021
The Good Liver is a modern day version of a general store that sets out to inform, inspire and ultimately suggest a better way of living through a conscientious collection of enduring, quality goods from around the world. Motivated by the simple things in life, The Good Liver strives to provide high quality, functional products with aesthetic appeal – the unification of design and quality! The store offers a carefully selected range of objects from international brands and makers, showcasing the history, philosophy and craftsmanship behind each item. Helpful staff share stories of the how and why behind each product's creation, illustrating the thoughtful curation of The Good Liver and their dedication to the good life.
Matter & Bone 548 S Spring St. Ste 113 Los Angeles, CA 90013
Formerly Hayes Gallery, Matter & Bone is a chic furniture and home accessories boutique located in downtown LA. In 2017, owner Tracy Hayes made the transition from gallery to boutique, diversifying her inventory to include carefully curated artisan goods, with a strong focus on local LA artists. Inspired by your own unique aesthetic, Matter & Bone can arrange for custom upholstery or refinishing for nearly every piece in their collection, to create a look that fits perfectly in your home.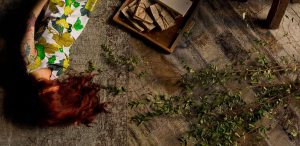 HD Buttercup DTLA 2118 E 7th Pl, Los Angeles, CA 90021
Since opening their doors in 2005, HD Buttercup has become a favorite resource for home furnishings and décor. Defined by bold and imaginative pieces from around the world, HD Buttercup has become the destination for distinctive collections, from sleek mid-century designs to vintage accent pieces. Eliminating the middleman, they work directly with factories and iconic designers to provide a wide variety of high quality, well-priced pieces. HD Buttercup also offers complimentary interior design and personal shopping services.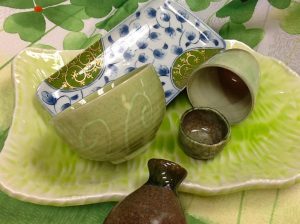 Rafu Bussan 414 East Second Street Los Angeles, CA 90012
Located inside the Honda Plaza, Rafu Bussan offers a slice of Little Tokyo history and tradition. The store dates to before World War II, when Yuko Tanaka and Junichi Onishi founded Rafu Bussan in Gardena, California. During World War II, Mr. Tanaka was sent to an internment camp and after the war, they started up the business again, delivering items such as rice, tea, rice bowls and chopsticks to the Japanese in Orange County and the South Bay communities. In 1958, the late Kiyoshi "Skip" Kawaratani and his wife purchased Mr. Onishi's share of the business and later, Mr. Tanaka's interest as well. Today, Rafu Bussan carries a huge selection of Japanese dinnerware, vases and accessories, traditional iron and metal ornaments, classical Japanese dolls, lacquerware, kitchenware, origami papers and books, cookbooks, and Japanese foods.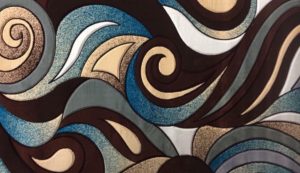 LA Trim & Rugs 831 S Wall St Los Angeles, CA 90014
This insider's secret offers luxurious rugs made with the highest quality yarn possible, designed by today's traditional and modern fashion experts, with durability, artistic palette, comfort, and affordability in mind. Each rug goes through a special preparation process to produce a unique and beautiful product. The rug yarn is first dyed to custom color specifications, and then is tufted individually by the hands of talented artisans. New stain and soil resistant advanced technology is then added to ensure durability, quality, and performance. Choose from countless styles including shag, flokati, faux fur, Persian, contemporary, and even fluffy 3D models.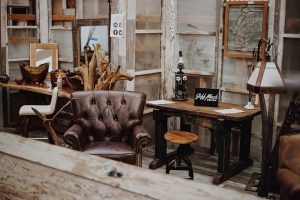 Silverado Salvage & Design 2401 E 27th St, Vernon, CA 90058
Silverado Salvage & Design is the original salvage and reclaimed wood destination where you'll find a huge selection of architectural salvage, antiques, pre-made, repurposed and reclaimed wood furniture, and thousands of feet of beautiful reclaimed wood. The cavernous 16,000 square-foot warehouse is popular with studios, commercial and residential designers, architects, artists, craftspeople, builders, as well as the general public. The team will create custom designs, including tables, desks, credenzas, kitchen islands, cabinets, shelving, sliding doors, wall installations, and objet d'art, just to name a few.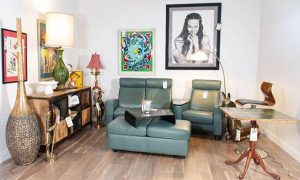 Loveseat Vintage Furniture 2445 E 12th St Unit C, Los Angeles, CA 90021
Loveseat is the creation of husband and wife duo Jenny & Chris Stanchak–dubbed 'Team Awesome.' While preparing for their cross country move from Philadelphia to San Diego, the couple realized just how hard it is to sell furniture, and even worse, how amazingly challenging and time consuming it is to find nice furniture you can afford. From this frustration, Loveseat was born. You can buy and sell vintage furniture on the Loveseat online platform, or swing by their warehouse in DTLA to take an in-person look at their fun and affordable inventory. Order your low-cost home delivery during checkout.