The heat is on, with no end in sight. Temperatures may be soaring, but if you resist the temptation to hunker down in your air conditioned cocoon, you'll find a multitude of refreshing opportunities to survive the summer sizzle. From immersive exhibitions and twilight garden strolls to rafting on the LA River, and even an indoor ice skating rink, we've rounded up 10 cool ways to beat the heat in LA!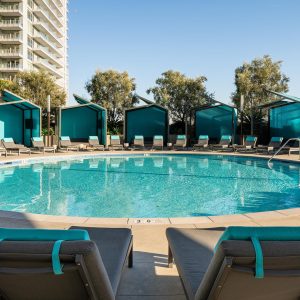 Happiness begins at home! Luxuriate in the resort-like ambiance of Circa's two-acre rooftop park and amenity collection. Our 75-foot lap pool provides a revitalizing respite from sultry summer weather. Enjoy a dip in the elliptical pool and take a relaxing break in our private cabanas.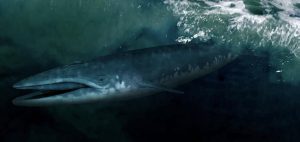 L.A. Underwater Natural History Museum 900 Exposition Blvd. Los Angeles, CA 90007
Before it was the vibrant city we know, Los Angeles was underwater for over 90 million years. Dive into NHM's newest multimedia-rich, immersive exhibition L.A. Underwater and discover L.A.'s prehistoric past through the stories of nearly 40 fossils that are uncovering the secrets of our submerged prehistory. Many of these fossils were found by everyday Angelenos, from construction workers unearthing over 2,000 fish fossils while working on the Metro line to Museum neighbors discovering a whale skull while digging an irrigation ditch in Lincoln Heights. These locally-discovered fossils are helping scientists understand the topography of the city's past and present.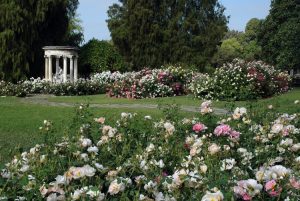 Twilight Garden Strolls at The Huntington 1151 Oxford Rd. San Marino, CA 91108
Get ready for relaxation and exploration as you wander the gardens with friends and family after hours. The Red Car coffee shop will be open until 5:30PM and the 1919 Cafe will be open serving a selection of grilled items, house-made soups, hand-crafted sandwiches, salads, and grab-and-go fare from 5:30 to 7:30PM. Food and drink are not permitted while strolling, but you may bring bottled water and a blanket to sit on the lawn. Most gardens will be open for your enjoyment. However, the library, art galleries, The Rose Hills Conservatory, and the Helen and Peter Bing Children's Garden will be closed.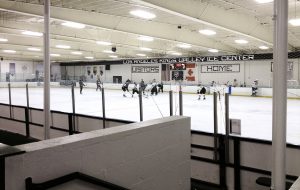 LA Kings Valley Ice Center 8750 Van Nuys Blvd. Panorama City, CA 91402
The Los Angeles Kings Valley Ice Center, home of the 2012 Stanley Cup Champions, is a two ice surface facility located in the heart of the San Fernando Valley.  The rink offers everything in relation to the ice including hockey, ice skating, curling, broomball, public sessions, sticktime, learn to skate classes, group lessons, private lessons, filming, and special events.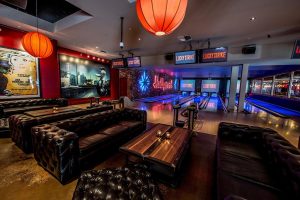 Lucky Strike LA Live 800 W Olympic Blvd. Ste. 250, Los Angeles, CA 90015
Nestled just steps away from the Crypto.com Arena, Lucky Strike LA Live is the perfect place to roll a few frames, shoot some pool, and enjoy delicious cocktails and tasty bites. Featuring 18 premium lanes, tons of screens to catch all the big games, and plenty of tasty cuisine to fuel your fun, there's no shortage of activities to enjoy. Check out the luxury suite that offers a private setting with four lanes, two billiards tables, and a private bar.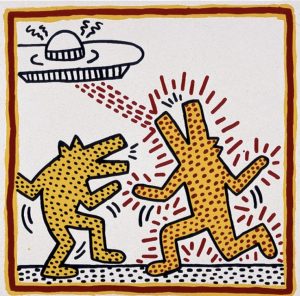 Keith Haring: Art is for Everybody The Broad  221 S Grand Ave. Los Angeles, CA 90012
The Broad presents the first-ever museum exhibition in Los Angeles of Keith Haring's expansive body of work and features over 120 artworks and archival materials. Known for his use of vibrant color, energetic line work, and iconic characters, like the barking dog and the radiant baby, Haring's work continues to dissolve barriers between art and life, and spread joy, all while being rooted in the creative spirit and mission of his subway drawings and renowned public murals.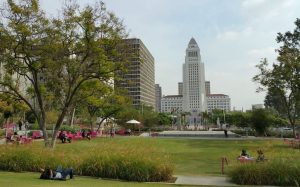 Gloria Molina Grand Park 200 N Grand Ave. Los Angeles, CA 90012
With its majestic views extending from the Music Center to City Hall, Grand Park provides Angelenos a place where they can come together to celebrate, reflect, and and play. Throughout Grand Park, open spaces are available for casual sitting, leisurely strolling, and dining al fresco. Grand Park has four distinct areas featuring amenities ranging from a restored historic Arthur J. Will Memorial Fountain with a new wade-able membrane pool, a small intimate performance lawn, a community terrace planted with drought-tolerant specimen plants, and a grand event lawn.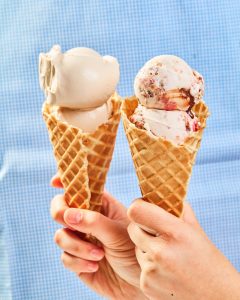 McConnell's Grand Central Market 317 S Broadway, Los Angeles, CA 90013
For 70 years, McConnell's has been making dense and pure-flavored ice creams, with smooth, consistent texture and a rich, velvety mouth feel – all made from scratch with a few, simple ingredients. McConnell's mission is to produce the finest ice creams in the world, in the most responsible and sustainable way possible. In the process, they aim to enrich and enliven the communities in which they operate, and leave the world just a little bit "sweeter" than they found it.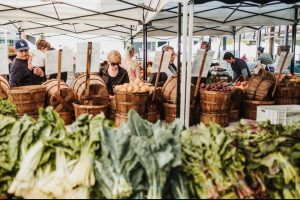 South Park Farmers' Market 11th & Grand, Los Angeles, CA 90015
Downtown LA has just booked another farmer's market, this time in the South Park neighborhood. The South Park Farmers' Market takes place each Saturday, from 9AM to 2PM on Grand Ave and 11th St. A diverse bunch of farmers, foodies, and artisans will be accompanied by live music. Market offerings include locally grown fruit, vegetables, fresh fish, French pastries, Southern gumbo, tamales, and free-range meat from a local rancher who practices regenerative agriculture. So come out, stock up for the week, and enjoy the community.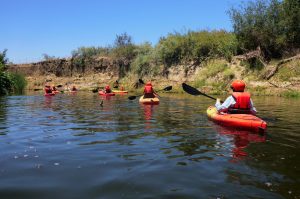 Start your urban adventure! LA River Expeditions is the original boating organization on the Los Angeles River. The founders 2008 expedition down the river's 51 miles (from the San Fernando Valley to the Pacific Ocean) launched their involvement with the LA River revitalization as a nonprofit organization, committed to improving the quality of life in our community. This groundbreaking activism was a key factor in changing Federal environmental policy by winning Clean Water Act protections in 2010 for the Los Angeles River and waterways across the country. LA River enthusiasts can book kayak tours in both Los Angeles River recreational zones: Sepulveda Basin Recreation Zone and Elysian Valley Recreation Zone.
Photo credits:
Photo #1: Circa LA
Photo #2: Circa LA
Photo #3: Natural History Museum
Photo #4: The Huntington
Photo #5: LA Kings Valley Ice Center
Photo #6: Lucky Strike LA Live
Photo #7: The Broad
Photo #8: Gloria Molina Grand Park
Photo #9: McConnell's
Photo #10: Playa Vista Farmers' Market
Photo #11: LA River Expeditions